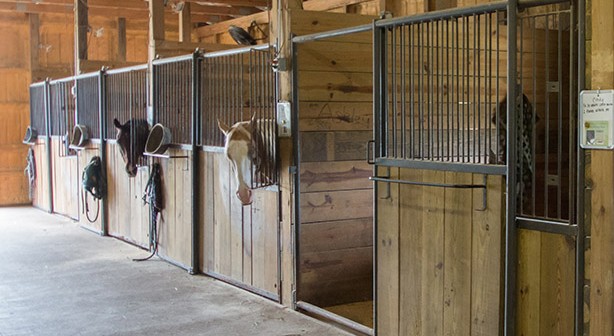 Strides to Success, Inc. was founded in June of 2004.  John & Debbie Anderson were out for a Sunday drive when they came upon a farm that had an auction sign in front. This was no ordinary auction….it was an auction that was held by the Federal Drug & Task Force. The farm had been seized as part of a drug raid.  The property had been used as a marijuana growing operation. John Anderson ended up as the last bidder.
John, Debbie and partner Linda Hazzard began thinking that the farm would be a perfect site for their new dream.  A dream to create a program that teaches at-risk and special needs children life skills to encourage better life choices, achievement in school and improves personal relationships. The motivation…………the farm environment and HORSES!
The trio called on their family, volunteers and friends to come and help them remodel the barn to meet the needs of their newly created program, Strides to Success. They needed classrooms, offices, therapy rooms, stables and an indoor arena for the horses. The work began in May of 2004.
The non-profit organization, Strides to Success was officially opened July 1, 2004. Mental health professionals, school teachers and school administrators started calling looking for programs for the many children with emotional, behavioral and educational needs. By November of 2005, Strides was serving 65 children each week.
In August of 2007, developers purchased the little blue farm as part of an industrial park so Strides needed to relocate. John's parents, Ben and Dorothea Anderson graciously provided a 33-acre farm that had been in the Anderson family for three generations. The Anderson farm had been a dairy farm for almost one hundred years. Many Plainfield residents had come to the farm and been part of harvesting crops by hand, baling hay and gathering eggs with Mrs. Anderson. Ben Anderson was known for his story telling and his wonderful jokes. The farm has wonderful and colorful memories for many Plainfield residents and their children. Although the Andersons were thrilled with the plans for the farm, they did not live to see the Strides to Success learning center completed. Today, the 10,000 square foot state of the art facility hosts classrooms, therapy offices, a heated indoor arena, an outdoor arena, a horse playground and plenty of pasture for the horses. God is good and we thank him for our blessings.